By Mr. Picky
One recent cold and rainy evening, I was craving something a little different than the usual glass of wine. I was eyeing the contents of the  fridge, when I spotted an opened bottle of 2007 Paso Port Violeta. Ah, the perfect drink for a cold and rainy evening.  As I started to pour a small glass, I got reprimanded by Mrs. Picky.
"That was a birthday gift from Aunt Linda."
"But I'm just having a small taste."
"It's supposed to be for special occasions. I want this stuff to last."
"But I'm just having a small taste."
"But it was a birthday gift for me."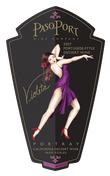 This was a first. Mrs. Picky has never stopped me from opening a bottle of wine no matter how special it is. At first I thought she was being selfish, but slowly realized that she, like I, loved this port. Since I didn't want to sleep on the couch, I decided to pour the port back into the bottle, but not before taking a sip of this heavenly juice.
It's also important to point out that we are not big fans of port. But something about Violeta is so powerful that it is creating conflict in the Picky home. Violeta, Paso Port's flagship port, is made exclusively from traditional Portuguese varietals and there is a delicate, sweet spiciness that has us wanting more. Read More